Phone and meeting booths: the Etoile experience
---
Architect Paolo Pampanoni describes the company's projects under the sign of contemporary paradigms of workplace design
In today's socio-economic scenario, any organization is confronted with the issue of 'complexity', intended as a network of relationships among individuals, groups and subsystems, influenced by multiple internal and external factors including organizational structure, decision-making processes, corporate culture, market environment, technology and many others.
The capacity to rapidly respond to change involves adaptation and learning strategies to survive and thrive in a fast-changing environment.
It is within this frame, where the need for increasingly flexible and interconnected workspaces has become a key issue, that Etoile has shaped its design solutions venturing, with the company's traditional style and passion, into the contemporary concept of the full-glass acoustic box, developing into a self-supporting micro-architecture or partition wall.
A fully enhanced system, providing an implementation of all the ranges of partitions already available in the catalogue, while introducing innovative logic and accessories.
With increasing frequency, the needs expressed by clients are moving towards the creation of efficient and flexible workplaces, which can guarantee functional interaction and at the same time reduce external 'interference' in shared areas.
To this end, phone booths are proving to be effective and valuable solutions for solving critical issues and optimizing the quality of work.
In open space settings, which have become very popular in recent decades, background noise can become a disturbing factor affecting the productivity and well-being of employees.
Acoustic boxes are designed to confine sound within a defined space, allowing people to work in a quieter environment and better focus on their activities and tasks.
In these confidential yet interdependent stations, people can make phone calls or carry out activities that require concentration, with the privacy needed to communicate freely without concern for confidential information.
They are also flexible and adaptable constructs, which can be easily and quickly contextualized in pre-existing situations, moved or resized.
The result is a dynamic and variable layout that manages to combine the strategic needs of the office and the contemporary needs of individual spaces and collaborative meeting areas.
Finally, phone booths allow for full design customization in order to reflect the corporate identity and culture, contributing to a more welcoming, comfortable and pleasant working environment and promoting the overall well-being of employees.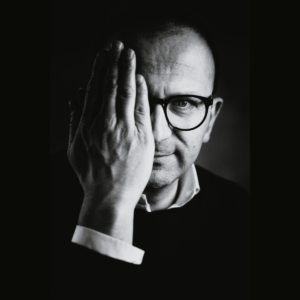 "Etoile founder Fabio Santoni resisted the temptation to put an acoustic box into production for years. Under pressure from his Portuguese partner Divilux and a large part of the sales network, he eventually 'gave in' and started the project for an innovative and simple system." – as the designer Arch. Paolo Pampanoni said – "Simplicity and flexibility are the core principles that he conveyed to me right from the start of this project, which we are developing together, along with the company's technicians. To this end, I have brought into play the experience I have gained in the last few years, my in-depth knowledge of the company and its business dynamics".
Over the last few months, a brilliant and highly modular project has gradually taken shape, where the box features an extruded aluminum structure that allows it to be perfectly 'equipped' with worktops, acoustic panels, curtains and shelves.
The possibility of using glass in different thicknesses and acoustic performance, as well as easily installed sound-absorbing panels, allows for maximum tailor-made levels of noise reduction and insulation.
Furthermore, a careful study is also dedicated to the internal ventilation system based on variable speed fans integrated in the acoustic ceiling.
The must-have of this design lies in its ease of installation, respecting the above-mentioned flexibility which is nowadays deemed an unavoidable requirement in contemporary workplace design.
The widespread demand of customers, which Etoile aims to satisfy with the introduction of these new design solutions, is that each workstation can be quickly disassembled and reassembled in another position or with another configuration, as in a kind of 'Lego' with standard modules that can be combined in many ways.
"Whereas a few years ago, acoustic boxes were the domain of foreign markets and companies with large open spaces," Pampanoni adds, "today the operational issues they solve and the opportunities they offer make them appealing and popular products in Italy as well."
Comments are closed